If you are between the ages of 13-17 and considering joining a Spanish summer course in Madrid, then the Spanish Junior Course (13-17) of TANDEM Madrid is a great option. With this course, not only will you learn Spanish, but you will be surrounded by people your own age and live with a host family. This will allow you to soak up the Spanish culture from day one.
This academic program, which takes place in summer, consists of 20 lessons of 45 minutes per week for a minimum of two weeks. In these 15 days, or more, you will attend Spanish classes in a school in the center of Madrid with other students your age and who come from many different countries.
You will live with a Spanish host family during your stay in Madrid. You will sleep in a double room and be will on a full-board accommodation (breakfast, packed lunch and dinner), with laundry service once a week. This arrangement covers your basic needs; so being away from your own home won't be so difficult.
As the perfect complement to your classes, every day after lunch you will participate in cultural and leisure activities in the afternoon or in the evening. You will have the chance to visit the most emblematic places of Madrid such as Plaza Mayor, Puerta del Sol, the Buen Retiro Park, the Madrid of the Austrias, the Madrid of the Sports, and also go to concerts and open-air cinemas.
If you prefer more active plans, then there are also many offers for you such roller skating, swimming, a day of mountaineering in the Sierra de Madrid, or other activities such as flamenco classes, a visit to the Real Madrid stadium or going to football and basketball matches, among others.
The cultural and leisure activities will start every day after lunch: one afternoon or evening activity. You will visit Madrid's most famous landmarks, including the Plaza Mayor, the Puerta del Sol, Retiro Park, El Madrid de los Austrias (the Habsburg legacy), the city's sports facilities, and attend outdoor concerts and films. We also offer sports activities like skating, swimming, hiking in the mountains outside Madrid, a visit to the Real Madrid Football Stadium, football or basketball matches, flamenco classes, and so on.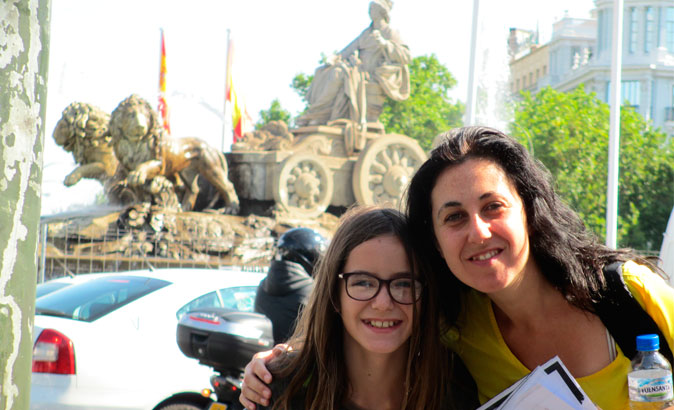 Trips/Excursions
The previous listed activities will not be the only way to discover the artistic and cultural heritage of Spain. Every Saturday there will be trips to places near Madrid such us Segovia and its Roman aqueduct, Toledo, the breathtaking Royal Site of San Lorenzo del Escorial that Phillip II of Spain ordered built, or Ávila and its walls, all of which have been declared World Heritage Site by UNESCO.
The cultural program includes 1 activity in the afternoon or in the evening everyday, and 1 weekend trip.
Summer Junior Spanish Program in Madrid
Starting dates
Every Monday from June to July.
Ages
13 to 17
Lessons/week
20 lessons/week – 4 lessons/day
Duration
Minimum 2 weeks
Timetable
Levels
All levels
Lesson duration
45 min
Cultural program
1 afternoon activity every day + 1 excursion at the weekend
Accommodation
Host family, individual room with full board
Enrolment fee
50€

Included

in the price

15 services included in the price!
Prices
2 weeks
1565 Euros
4 weeks
2990 Euros
Please check our complete list of Spanish courses.