In Spain the word cuisine is written in capital letters. It has not taken long for the whole world to start talking about Spanish cuisine; nowadays it is at the top of the world charts since some experts admire the creativity, innovative capability, diversity and strength in our cuisine.
Madrid Fusion is celebrated in Madrid every year; it might well be the most important culinary congress of the world. Moreover, Gastrofestival and the Salón de Gourmets are also celebrated in the city, which are the nexus point of delicatessen products. Furthermore, more and more establishments in the city win Michelin stars every year, the most famous award for gastronomic excellence worldwide.
DiverXO –with three stars–, Santceloni, La Terraza del Casino, Ramón Freixa Madrid, El Club Allard, DSTAgE and Coque –with two stars– and Kabuki, Kabuki Wellington, Álbora, La Cabra, Punto MX, Lúa, A'Barra, Gaytán, La Candela Restó and Cebo, these last two are brand new –with one star are on the list of the Michelin Guide in its 2018 edition.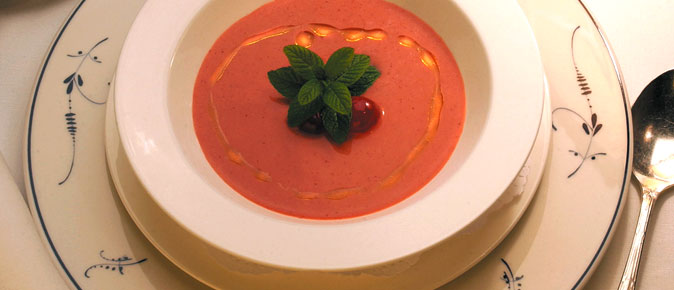 "Gazpacho is the best cold soup in the world"
Ferrán Adrià
But the gastronomy of Madrid is much more than grand cuisine. In Madrid you will find close to 3100 restaurants where you will find options for all tastes and budgets. Since Madrid has such vast gastronomic offerings, you might probably wonder where to start.
TANDEM Madrid wants to help you to discover Madrid and its cuisine. This is why we offer a special program combining Spanish learning (20 Spanish lessons per week, 4 lessons every day of 45 minutes each) and gourmet activities.
The "Spanish and a Gourmet Passion Course" of TANDEM Madrid has been designed for people over 18 years old who have any level of Spanish, from none, to those who get by fluently in the language of Cervantes. Students with a refined taste who relish the opportunity to live a gourmet experience while studying Spanish are welcome. In this experience, Madrid will not only find the way into your heart through its people and culture, but also through your stomach.
Spanish and a Passion for Gourmet Cooking
Starting dates Spanish Course
ANY MONDAY OF THE YEAR
Lessons per week
20 Spanish lessons/week – 4 lessons/day + 2 lessons/week Spanish and Conversation from A2 level.
Duration
From 1 week
Levels
All levels
Timetable
Lesson duration
45 min
Minimum age
+18
Availability
All year round
Enrolment fee

50€.

Included

in the price

15 services included in the price!
Prices
1 week of intensive Spanish course
+ 2 gourmet activities
675 Euros
2 weeks of intensive Spanish course
+ 4 gourmet activities
1330 Euros
* This program must be booked at least one month in advance.
** Other types of Spanish courses are also available.
If you need more information or a personalised quote, please contact us providing as much information as possible. Within 24 hours you will receive an answer with a personalised quote.
Thank you!
Please check our complete list of Spanish courses.